Our Insight to Your Holiday Rental Income
Many, many factors can influence the degree of success you can have when choosing a holiday home for an investment purpose.
The distance to the sea, the local facilities, the internal decoration and equipment, Wi-Fi, sea views and many many more...
To help you decide we're sharing the average performance of properties in resorts within a beautiful seaside town of São Martinho do Porto in Portugal.
Click on the map below to see average incomes for properties in different locations in the town with different sizes and facilities.
Hopefully this helps you with your maths working out what your investment could bring you for this town - perhaps answering questions like...
"Should I install Wi-Fi?...".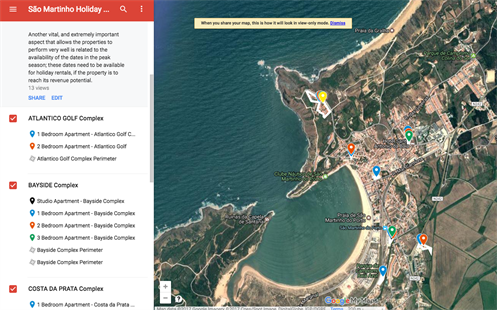 Our Recommendations
To give you a better understanding of how you can get the best out of your property, and based on our own analysis we have concluded that most of the properties that generate the most revenue have the following features in common:

- Seasonal rates that reflect the market flow of supply and demand
- internet/wifi service
- swimming pool
- satellite/cable TV
- fully equipped kitchen
- close to the beach
- sea view
- central location to local shops, bars and restaurants

Another vital, and extremely important aspect that allows the properties to perform very well is related to the availability of the dates in the peak season; these dates need to be available for holiday rentals, if the property is to reach its revenue potential.
Good Luck with your search!
Back to More About Rental Retreats